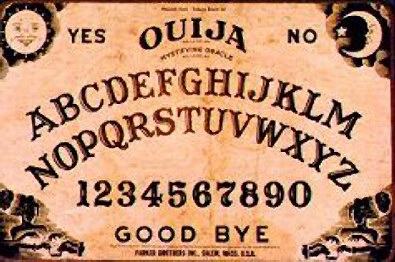 I haven't mentioned this yet, but I've been excited for Halloween long before the "back to school" shelves were replaced with assorted trick or treat items and costumes. Actually, I tend to find myself getting all giddy with the holiday as early as spring. I start humming the Disney "Trick Or Treat for Halloween Song"... and as October approaches, I begin singing aloud "Its the Most Wonderful Time of the Year"... well, aloud in my car with the windows rolled up.
The nice thing about the Group 101 Films thing is that I can celebrate Halloween EVERY month by making a horror short each time. My last project was, in essence, a small pitch for a supernatural based show. My next one I think will be a small mood piece revolving around a Ouija board. I'm trying to think of a simple story revolving around a guy and a gal who are playing with the Ouija. I want some level of eroticism to it - cause there's something sexy about playing Ouija with an unfamiliar member of the opposite sex. The proximity of bodies, hands brushing against each other as they rest on the planchette, and the electrical charge of whatever supernatural charge is in the air.
Anyway, no idea what will happen in terms of plot. I'm sure it ends with some creepy moment. But, if anyone has ideas, especially a story of their own to share, please leave it in the comments. I'm not above plagiarism for these 3 minute shorts... and I may even dish out some screen credit.
More on Halloween in the coming week, including the first installment of my supernatural/occult themed podcast...